PGL Careers Open Days
Come and meet us!
Careers Open Days
Ahead of our 2018 season, PGL is throwing open the doors of PGL activity centres across the UK for our Careers Open Days.
Attending an Open Day is a fantastic opportunity for you to come and learn all about jobs and careers with PGL, try some of our activities for free, take a tour around the centre, and meet with the PGL staff team to discover the working adventure of a lifetime. You can find out if a career in the outdoors is for you!
All you've got to do to register your place at the Open Day is call: 0333 3212 123. Alternatively, email your details, including your name, the roles you're interested in, if you're bringing anyone with you, and what time slot you'd like to attend (see details below for times) to recruitment@pgl.co.uk.
2017:
24th October - PGL Marchants Hill, Hindhead, Surrey
Join us at Marchants Hill at 10am or 11.30am.
26th October - PGL Winmarleigh Hall, near Garstang, Lancashire
Join us at Winmarleigh Hall at 10am or 11.30am.
18th November - PGL Caythorpe Court, Grantham, Lincolnshire
Join us at Caythorpe Court at 10am or 11.30am.
Don't forget! You can still apply to work with PGL in 2018 before attending one of our Open Days.
2018:
We will be hosting Careers Open Day events at Liddington, Little Canada, Windmill Hill and Bawdsey Manor in 2018. If you'd like to attend, registrations will open in the new year.
Job Search

Get in Touch
Call us on 033 33 212 123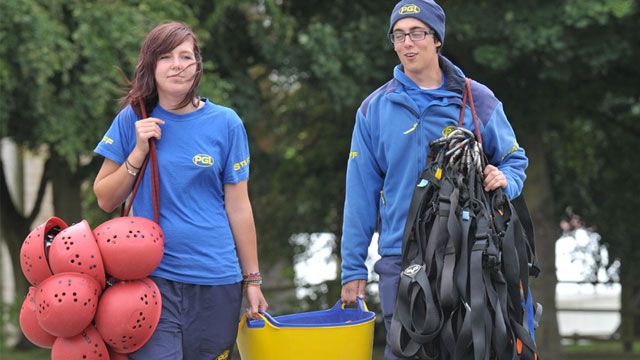 Key PGL Facts
Need more convincing to apply? Surely not, but if so – here are a few 'must know' key facts:
we employ over 3,000 people every year
over 400,000 guests visit a PGL centre every year
we are experienced! We have been providing activity holidays since 1957, thats 60 years!
we have the most competitive staff package
we are the employer of choice within the outdoor activity industry!
Shortcuts
E-newsletter
Be the first to know about job opportunities and recruitment news.