Next steps
the application process
The application process
We receive in excess of 10,000 applications each year and have around 1,500 staff members from previous years wanting to return so it's very competitive to join the PGL team!
This page is here to help you with your application and make sure that your application doesn't just impress us, but also that all of the information you put on the form is correct so that we can process your application and hopefully – get back to you quickly with a job offer!
For our Activity Instructor/Group Leader roles, we receive a ratio of ten applications for every available position so you'll need to make your application really stand out! We look for people with previous experience of working or volunteering with young people for these roles - scouts, guides, youth groups, sports coaching are all fantastic opportunities to gain this experience, plus you can also ask the group's leader to be one of your three referees.
To apply for work at PGL you must be at least 16 years old, however, if you wish to work in a residential, guest-facing role, you must be aged 18 by the start of your contract (you can still apply when you are 17). Applications will only be considered from those legally entitled to work in the UK. With the exception of a few specific roles, you will need to be available to work for at least 12 weeks – but in general, the longer you can work, the better!
Please make sure you have read our FAQ's page before applying as you may find the answers to any queries you might have there.
If you are applying from outside the EU, you may find our 'Useful information for overseas applicants' helpful. Plus, don't forget to read our Top Tips for Applying and remember to include your additional documentation (NGB certificates; proof of legal entitlement to work in the UK etc.).
Job Search

Get in Touch
Call us on 033 33 212 123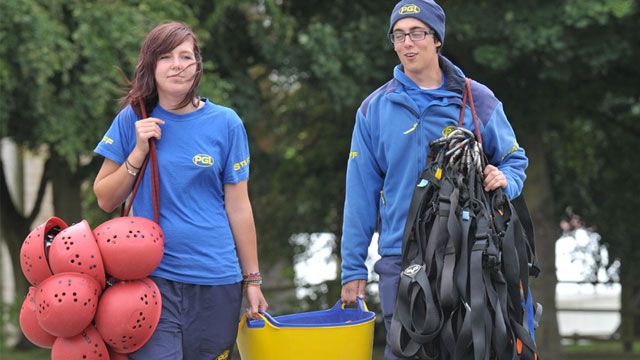 Key PGL Facts
Need more convincing to apply? Surely not, but if so – here are a few 'must know' key facts:
we employ over 3,000 people every year
over 400,000 guests visit a PGL centre every year
we are experienced! We have been providing activity holidays since 1957, more than 60 years!
we have the most competitive staff package
we are the employer of choice within the outdoor activity industry!
E-newsletter
Be the first to know about job opportunities and recruitment news.