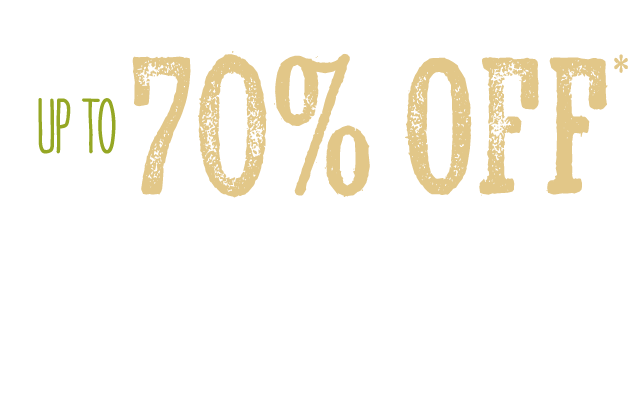 Up to 70% OFF holidays just for 'first timers'!*
We've been delivering children's adventure holidays for 60 years this year, and we know more than most how daunting that first adventure away from home can be. But rest assured, here's what some of our guests and their parents said about our holidays last summer...
98% of parents said their children had fun on their PGL holiday
96% of parents said their child felt safe on their holiday
94.2% of parents told us they would book another adventure holiday
Based on survey results of 2150 parents responses to questionnaires as at 28th Nov 2016.
This summer is the perfect opportunity for your child to take the leap and try one of our amazing adventure holidays. They will return with a boost of confidence and new found independence, refreshed and ready to take on the new school year.
For a limited time only, to tempt 'PGL first timer' parents to book with us this summer, we have up to 70% OFF* two of our adventure options, designed exclusively for those who haven't been to PGL before.
Take a look at the options on offer below, the discounts have already been applied so just click on the holiday and scroll to the bottom of the page to add it to your basket.
3 day 'Introductory Adventures' now from £99 per child*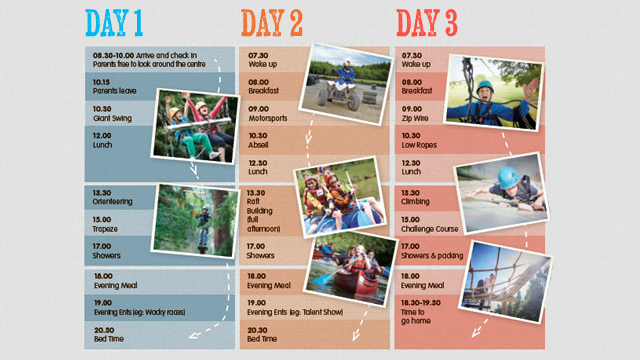 Once your child tries one of our adventures, they will want to come back for more! Created just for first timers, these bite size breaks offer that unique 'first taste' of all the exciting benefits a PGL adventure can offer.
Guests still enjoy 3 days of our original Multi Activity formula but everyone else in their group will be new too, plus they are only away from home for 2 nights so it's ideal for those with a busy diary this summer.
Now with from only £99* per child, they are fantastic value for money too! Take a look at the 'Introductory Adventures' included in the grid below.
First Timer week long holidays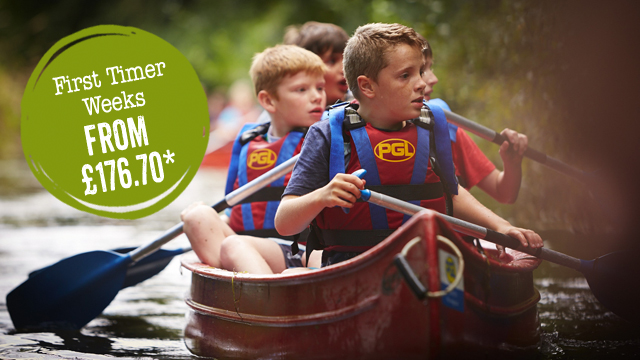 Our first timer holidays allow guests to enjoy all the fun of a 7 night Multi Activity holiday with the added reassurance that everybody else in their group will be new too. They offer exactly the same 6 day programme as our original Multi Activity holidays and pack in just as many activities.
These holidays are a fantastic option to make the summer holidays into an adventure and burn off tonnes of energy before heading back to a new school year.
Now with up to 70% OFF, they are incredible value for money and that little bit easier for parents to book for the first time.
How to book
To book, simply click on your chosen holiday in the table and scroll to the bottom of the page to select then add the holiday to your basket, the discounts have already been applied so there's no need for an offer code. Alternatively you can search and book your 2017 Adventure Holiday using the link below.
If you'd prefer to speak to someone on the phone, our Holiday Consultants are second to none and are on hand to book the perfect holiday for your child. Most are parents and know our centres well, so are best placed to answer any questions you may have. They can't wait to help you plan the perfect adventure – so give them a call!
No question is too small or unusual. We won't rush you but we know you're busy so we'll try to be as efficient and straightforward as we can. We're not an impersonal, 'scripted' call centre and we won't be in a hurry to end the call and move on. We get to know many PGL parents and children well and look forward to speaking to them several times a year. So please give us a call. We'd love to hear from you.
Call us on:
To view our latest opening times please click here.
Email: holidays@pgl.co.uk
*Terms and Conditions
All passengers must take PGL insurance to qualify for the 7 night first timer weeks offer. 2017 Insurance prices UK holidays (7 nights) - £37 UK residents, £49 EU residents, £63 outside EU. Optional extras will be charged at the full rate for each passenger. All offers are subject to availability. All offers may not be used in conjunction with any other offer, discount or holidays not shown here and cannot be applied retrospectively to existing bookings. Discounts are offered in conjunction with our general terms and conditions, which can viewed online or provided on request. Payment must be made in full at the time of booking. There is no charge for credit or debit card bookings paid for online – please note there is a 2.5% handling charge for credit card payments made by phone. First Timer weeks and 'Introductory Adventure' holidays are only available for children who have not been on a PGL Adventure Holiday before (this does not include attending a school trip to PGL).
Search for Holidays
It has never been easier for your child to experience a PGL Adventure Holiday. Select the options below to find the perfect fit for you and your child:
Please select at least one child's age in order to search. You can select multiple ages if you are searching for more than one child. Your search results will only display holidays for the ages selected.
We will search for departures 7 days either side of the day specified. If we can find no results we find the nearest available dates within 10 weeks either side of the day specified. PGL Adventure Holidays operate during the school holiday periods, please note that dates and holidays may vary at each centre. - February half term - Skiing and Snowboarding in February half term - Easter - May half term - July and August summer holidays - October half term