Same great Multi Activity formula in handy 'bite-size' options!
Whilst our 7 night Multi Activity holidays are the most popular choice, not everyone can find time to come on a full week of adventure this summer. That's where our various Mini Breaks come in, to suit everyone's diaries and budgets.
30% OFF all 3 night (Sat-Tues) Mini Breaks!*
A great weekend option starting on a Saturday. Ideal if you want to squeeze an action packed break into a busy diary, with two and a half days full of activities.
40% OFF all 4 night (Tues-Sat) Mini Breaks!*
An action-packed, slightly longer Mini Break option, offering great value for money. With a convenient weekend pick up, they are ideal if you can't make a full week and wanted to embark on a mini adventure experience in the summer holidays.
Take a look at the offers in more detail below, you'll find our easy booking instructions at the bottom of this page.
Offer ends Friday 25th August 2017.
30% OFF all remaining 3 night Mini Breaks this summer*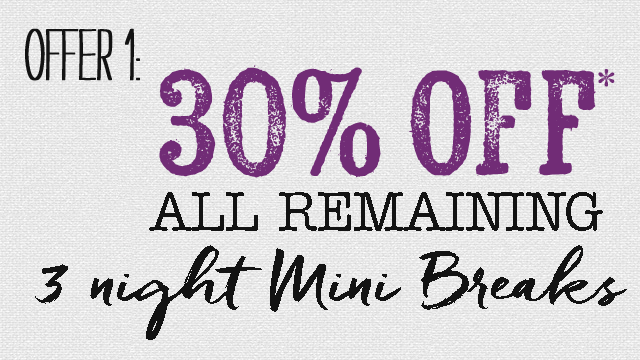 Ideal for those who cannot make a full week, our 3 night (Sat-Tue) Mini Breaks still allow your child to pack in tonnes of amazing activities into a long weekend, plus with 30% OFF* ALL remaining 3 night adventures, they are incredible value for money too.
View our 3 night Mini Break options, and all the centres they are running at by clicking here.
Ready to book?
You can find our handy booking instructions below and your 30% OFF* offer code is BYB3.
40% OFF all remaining 4 night (Tue-Sat) Mini Breaks this summer*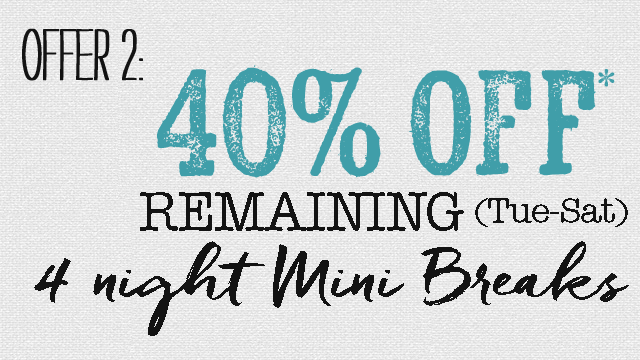 At almost a full week, our 4 night (Tue-Sat) Mini Breaks are another option for those with a busy diary looking for a taste of the adventure this summer. We make sure each day is still jam-packed with loads of activities to give the full adventure experience.
View our 4 night (Tue-Sat) Mini Break options, and all the centres they are running at by clicking here.
Ready to book?
You can find our handy booking instructions below and your 40% OFF* offer code is BYB4.
Ready to book?
To book, you can use the links in the offers above to find a Mini Break at your chosen centre. Scroll to the bottom of the page to add the holiday to your basket. Don't forget to enter the offer code to get your discount. Alternatively you can search and book your Mini Break using the link below:
If you'd prefer to speak to someone on the phone, our Holiday Consultants are second to none and are on hand to book the perfect holiday for your child. Most are parents and know our centres well, so are best placed to answer any questions you may have. They can't wait to help you plan the perfect adventure – so give them a call!
No question is too small or unusual. We won't rush you but we know you're busy so we'll try to be as efficient and straightforward as we can. We're not an impersonal, 'scripted' call centre and we won't be in a hurry to end the call and move on. We get to know many PGL parents and children well and look forward to speaking to them several times a year. So please give us a call. We'd love to hear from you.
Call us on:
To view our latest opening times please click here.
Email: holidays@pgl.co.uk
*Terms and Conditions
All passengers must take PGL insurance to qualify for all UK offers – see prices below. Escorted travel, excursions or any other optional extras, including travel supplements for French Holidays from Manchester (£53) and Birmingham (£42), will be charged at the full rate for each passenger. Discounts are offered in conjunction with the general terms and conditions in the PGL Adventure Holidays brochure 2017. Bookings are non-transferable and all offers may not be used in conjunction with any other offer or discount or applied retrospectively. Payment must be made in full with either credit or debit card at time of booking. There is no charge for credit or debit card bookings made online – please note there is a 2.5% handling charge for credit card payments made by phone. Closing date is 25th August 2017. 2017 Insurance prices UK holidays (4 nights) £28 UK residents, £33 EU residents, £43 outside EU, (3 nights) £20 UK residents, £26 EU residents, £32 outside EU. Offers apply to summer holiday dates only.

Search for Holidays
It has never been easier for your child to experience a PGL Adventure Holiday. Select the options below to find the perfect fit for you and your child:
Please select at least one child's age in order to search. You can select multiple ages if you are searching for more than one child. Your search results will only display holidays for the ages selected.
We will search for departures 7 days either side of the day specified. If we can find no results we find the nearest available dates within 10 weeks either side of the day specified. PGL Adventure Holidays operate during the school holiday periods, please note that dates and holidays may vary at each centre. - February half term - Skiing and Snowboarding in February half term - Easter - May half term - July and August summer holidays - October half term