Family Adventures at Bawdsey Manor
Suffolk
Introducing Bawdsey Manor! Our newest adventure centre set on the stunning Suffolk coastline.
Welcome to our newest addition!
Bawdsey Manor is our newest addition to the line-up of amazing adventure centres!
It is a remarkable, Grade II listed, private site, sitting in 144 acres of stunning grounds. It has an abundance of open space and woodland, now full to the brim with adventure activities, as well as direct access on to it's own beach front, at the mouth of the River Deben.
We've worked hard to turn this stunning site into an adventure centre fit for adventurous families! Alongside the fantastic facilities here including newly refurbished, en-suite accommodation and new dining room, you will be able to enjoy a range of our classic multi activities.
So, why not come along and see what this stunning centre has to offer?
If you choose to make Bawdsey Manor the base for your family's Multi Activity weekend, short break or week-long holiday, you will be sleeping in our newly refurbished, bunk-bedded rooms. All are en-suite and sit in blocks within the beautiful parkland around the Manor.
Over the past year, we have been investing heavily in the site to fill the grounds with amazing, purpose-built activity bases. There's now a full range of activities from our classic programme including giant swings, a Jacob's ladder, trapeze and climb towers. There is also a tennis court* (for more competitive families!) and water-based activities take place Deben Water Sports Centre in Woodbridge (approx. 30 minute coach ride).
Alongside our new additions, we have converted the existing, historic clock-tower buildings into a buffet style dining room, creating a relaxed dining area for families to enjoy meal times, just a short walk from the accommodation.
Inside the main manor house is a lounge for the use of our family guests to enjoy in their down time, with access onto one of the terraces with beautiful, panoramic sea views that surround the main house.
Please note there is no bar at Bawdsey Manor. However, refreshments are provided for you to enjoy in a lounge and the team on centre can advise you of nearby pubs and restaurants should you wish.
*Tennis courts are subject to availability.
Every day is different
As one of our largest centres, with a superb range of land and water-based activities including giant swing, buggy build, zip wire and canoeing, Bawdsey Manor is great for families looking to try our classic Multi Activity holiday.
Evening Entertainment
Enjoying fun evening activities together as a family has always been part of our inclusive formula but even we recognise that some parents still want a bit of 'me' time too. Therefore, we're introducing some optional new 'children only' evening activities into our programme, alongside our existing planned 'family' entertainment that you can do together. Our team will supervise your children, who will spend their time with other children of similar ages doing organised activities, leaving you free to relax.
Select an activity for a full description
Time together
Eating together is an important part of any family holiday and we know how tricky it can be to please everyone in the family. PGL Family Adventures include breakfast, lunch and dinner; making food one less thing for you to think about.
Something for everyone
We source fresh regional produce whenever we can and you'll always find a good selection of seasonal fresh fruit and vegetables on offer every day. The menu will always include a vegetarian option and we will try to provide a taste of local cuisine whenever possible. We aim to provide a balance of food which is familiar but also gives guests the opportunity to try food influenced by the area they are visiting. A salad bar is available at lunch and dinner time and fresh fruit is available at every meal.
For guests staying for 4 or 7 nights, one evening the team will throw a BBQ as your evening meal or include a cheese and wine night for the adults.
Our Group Leaders are on hand to help and will look out for anyone who can't find anything on the menu that they enjoy. If necessary our catering teams will be more than happy to prepare something special.
Allergies, intolerances and other dietary requirements
A vegetarian alternative can always be provided on all our holidays, and we can accommodate most special diets required on medical or religious grounds, just let us know when you book.
Drinks
Hot drinks and water are available with meals. We encourage guests to fill their drinks bottles at meal times ready for activities, but water stations are available around the centre.
A dining room with a difference...
Meals will be served in the newly renovated clock-tower building. It is a relaxed, self-service style buffet for families to enjoy.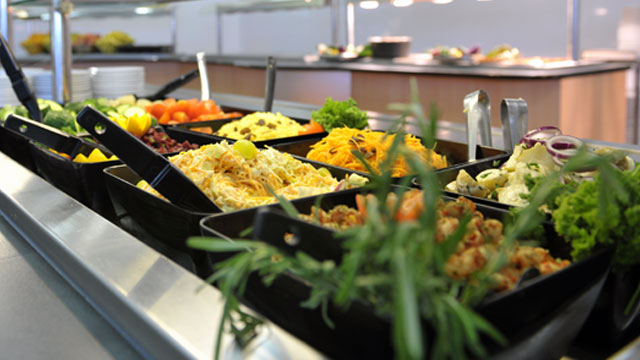 Sample day at Bawdsey Manor

| Schedule | Activities |
| --- | --- |
| Breakfast | Wake up and head down to breakfast to fuel up for the day. Choose from a large range including a hot cooked breakfast, cereals, toast, yoghurts, porridge and a selection of drinks. Make sure to fill up your drinks bottle to take on to your first activity! |
| Session 1 | Trapeze |
| Break | Take 10-15 minutes to have a break and get yourself a drink ready for the next session! |
| Session 2 | Giant Swing |
| Lunch | Worked up an appetite? Replenish your energy at lunch! In the dining room you'll find nutritious hot and cold options with a great range to suit every taste and dietary requirement. If you have spare time after your lunch, relax with a hot drink ready for the afternoon ahead. |
| Session 3 | Fencing |
| Break | A chance to reflect on all the activities you've done so far and prepare for the final activity of the day. |
| Session 4 | Jacob's Ladder |
| Dinner | Head to the dining room and enjoy dinner with your family. For guests staying for 4 or 7 nights, on one evening we'll either have a BBQ or organise a cheese and wine night for the adults. |
| Evening Entertainment | Enjoy evening entertainment as a family or just send your children and get some 'me time'. With different entertainment each night from quizzes to talent shows, there's something for all the family to enjoy! |
| Relax | Head back to your room or to lounge areas to relax and wind down. Get a good night's sleep ready to do it all over again tomorrow! |
Please note this is a sample itinerary for illustrative purposes only. Itineraries will be planned by the centre shortly before your arrival.
To celebrate the launch of our 2019 Family Adventures holidays, we have some fantastic special offers for our early bookers!
Save £40 per person on 4 night breaks and save £20 per person on weekends!*
Or, pay frozen 2018 prices and get a FREE child place on selected holidays of 6 nights or more!*
Take a look at all of our 2019 launch special offers here.
2019 Early Launch Special Offers
Holiday/ Duration
Dates
Accommodation
Adult price
Child price (5-18)
Child price (2-4)
Multi Activity Weekend/
2 nights (Sat-Mon)
24/08
Family room
£179
£20 OFF £159
£159
£20 OFF £139
FREE
Multi Activity Weekend/
2 nights (Sat-Mon)
24/08
Adult and Child rooms
£199
£20 OFF £179
£179
£20 OFF £159
FREE
Multi Activity Short Break/
4 nights (Mon-Fri)
19/08, 26/08
Family room
£375
£40 OFF £335
£315
£40 OFF £275
FREE
Multi Activity Short Break/
4 nights (Mon-Fri)
19/08, 26/08
Adult and Child rooms
£405
£40 OFF £365
£345
£40 OFF £305
FREE
Multi Activity Holiday/
7 nights (Sat-Sat)
17/08, 24/08
Family room
2019 price £499
2018 PRICE FREEZE £489
2019 price £419
2018 PRICE FREEZE £409
+ 1 child FREE*
FREE
Multi Activity Holiday/
7 nights (Sat-Sat)
17/08, 24/08
Adult and Child rooms
2019 price £539
2018 PRICE FREEZE £529
2019 price £459
2018 PRICE FREEZE £449
+ 1 child FREE*
FREE
*For full terms and conditions please click here.

Get in Touch
Call us on 0333 321 2114
Shortcuts
2019 Family Adventures brochure out soon!