At the heart of Scotland's 'Big Tree Country'
Dalguise, is set in a stunning location overlooking the River Tay, on the edge of the Craigvinean Forest at the heart of Scotland's 'Big Tree Country'. This small and friendly centre is a perfect escape from the daily hustle and bustle. Once the summer home of Beatrix Potter, this lovely setting inspired many of her well-loved stories and many children will recognise our Manager's cottage as the home of Mrs Tiggywinkle.
On offer at Dalguise:
7 night holidays
4 night short breaks
2 night weekends
The stunning 18th Century mansion house at Dalguise, with its castellated, mock-Gothic tower is set in 50 acres of formal gardens and mature woodlands. The centre is in a fantastic location, under two hours from both Edinburgh and Glasgow, with plenty of attractions nearby. Meals are taken on site and there's also a traditional pub in the local village ten minutes drive away.

Accommodation is in ensuite bunk bedded rooms, either in the wooden lodges in the grounds of the main house, or in our renovated Craigvinean Lodge.
You can choose between a family room or separate adult and child rooms (with children in a room adjacent to parents).
Dalguise has received a £1 million upgrade including new accommodation and activity bases. The centre has excellent activity facilities, some of which are situated amongst the magnificent sequoia trees.
Most of the activities are on site and are hidden within the woodlands all around the centre - making the most of the forest environment. Down the road is the scenic Loch Tay where the kayaking takes place (about 30 minutes by coach).
Highlights:
Encounter the local wildlife in 'Big Tree Country'
Indoor sports dome
Fantastic location - in a loch, mountain and forest setting
Every day is different
The activities at Dalguise make the most of the natural setting and take place in and around the forest surrounding the centre. Imagine zipping through the trees on our huge double zip wire or canoeing on our new, purpose-built on-site lake. It is also our only centre with 'Sequoia Scramble', a vertical challenge suspended between two massive Sequoia trees. Dalguise has a unique inflatable sports dome, which provides additional covered space allowing us to offer even more activities – whatever the Scottish weather throws at us!
Evening entertainment
Enjoying fun evening activities together as a family has always been part of our inclusive formula but even we recognise that some parents still want a bit of 'me' time too. Therefore, we're introducing some optional new 'children only' evening activities into our programme, alongside our existing planned 'family' entertainment that you can do together. Our team will supervise your children, who will spend their time with other children of similar ages doing organised activities, leaving you free to relax.
Select an activity for a full description
Time together
Eating together is an important part of any Family holiday and we know how tricky it can be to please everyone in the family. PGL Family Adventures include breakfast, lunch and dinner; making food one less thing for you to think about.
Something for everyone
We source fresh regional produce whenever we can and you'll always find a good selection of seasonal fresh fruit and vegetables on offer every day. The menu will always include a vegetarian option and we will try to provide a taste of local cuisine whenever possible. We aim to provide a balance of food which is familiar but also gives guests the opportunity to try food influenced by the area they are visiting. A range of salads is available at lunch and dinner time and fresh fruit is available at every meal.
Our Group leaders are on hand to help and will look out for anyone who can't find anything on the menu that they enjoy. If necessary our catering teams will be more than happy to prepare something special.
Allergies, intolerances and other dietary requirements
A vegetarian alternative can always be provided on all our holidays, and we can accommodate most special diets required on medical or religious grounds, just let us know when you book.
Drinks
Hot drinks, squash and water are available with meals. There are also water fountains available around the centre.
A dining room with a difference...
Meals will usually be served in the dining room, although at some centres there may be a barbeque on one evening. If you are out and about enjoying an excursion at lunchtime then our catering team will provide a delicious packed lunch for you to take with you.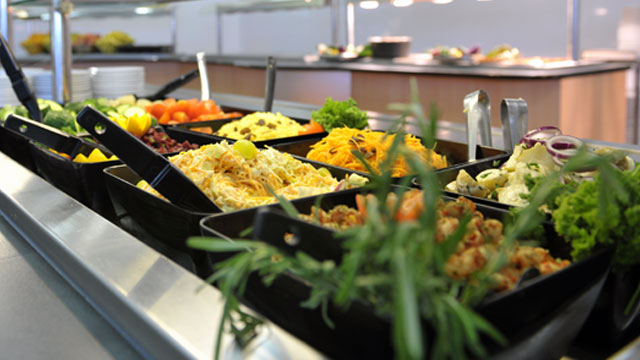 Sample day at Dalguise

| Schedule | Activities |
| --- | --- |
| Breakfast | Wake up and head down to breakfast to fuel up for the day. Choose from a large range including a hot cooked breakfast, cereals, toast, yoghurts, porridge and a selection of drinks. Make sure to fill up your drinks bottle to take on to your first activity! |
| Session 1 | Climbing |
| Break | Take 10-15 minutes to have a break and get yourself a drink ready for the next session! |
| Session 2 | Forest Trail |
| Lunch | Worked up an appetite? Replenish your energy at lunch! In the dining room you'll find nutritious hot and cold options with a great range to suit every taste and dietary requirement. If you have spare time after your lunch, relax with a hot drink ready for the afternoon ahead. |
| Session 3 | Giant Swing |
| Break | A chance to reflect on all the activities you've done so far and prepare for the final activity of the day. |
| Session 4 | Archery |
| Dinner | Head to the dining room and enjoy dinner with your family. A different menu each day, often with a hot pudding or something lighter if preferred! |
| Evening Entertainment | Enjoy evening entertainment as a family or just send your children and get some 'me time'. With different entertainment each night from quizzes to talent shows, there's something for all the family to enjoy! |
| Relax | Head back to your room or to relax and wind down. Get a good night's sleep ready to do it all over again tomorrow! |
Please note this is a sample itinerary for illustrative purposes only. Itineraries will be planned by the centre shortly before your arrival.
To mark the beginning of our new 2018 season you can make HUGE SAVINGS by booking your 2018 holiday of six nights or more, frozen at 2017's prices!
Plus, one child (aged 5-18) goes completely FREE per booking!*. Got an offer code? Don't forget to quote it when booking to get this discount.
Fancy a shorter break with us? Now you can save £40pp on 4 night breaks and save £20pp on weekends!*
► Where you see this symbol, it means the holiday is a new lower price for 2018!
Click here to see all of our amazing 2018 'Preview Event' offers.
2018 Dalguise Multi Activity Prices
Holiday/ Dates
Accommodation
Adult
Child (5-18)
Child (2-4)
Multi Activity Weekend
2 nights (Fri-Sun)
06/04
Adult and child room
2018 Price £179
£20 OFF £159
2018 Price £159
£20 OFF £139
FREE
Multi Activity Weekend
2 nights (Fri-Sun)
06/04
Family room

► 2018 Price

£159
£20 OFF £139

► 2018 Price

£139
£20 OFF £119
FREE
Multi Activity Weekend
2 nights (Sat-Mon)
04/08
Adult and child room
2018 Price £199
£20 OFF £179
2018 Price £179
£20 OFF £159
FREE
Multi Activity

Weekend
2 nights (Sat-Mon)
04/08
Family room

► 2018 Price

£179
£20 OFF £159
2018 Price £159
£20 OFF £139
FREE
Multi Activity Short Break
4 nights (Mon-Fri)
02/04
Adult and child room
2018 Price £339
£40 OFF £299
2018 Price £289
£40 OFF £249
FREE
Multi Activity Short Break
4 nights (Mon-Fri)
02/04
Family room
2018 Price £319
£40 OFF £279
2018 Price £269
£40 OFF £229
FREE
Multi Activity Short Break
4 nights (Mon-Fri)
30/07, 06/08
Adult and child room
2018 Price £389
£40 OFF £349
2018 Price £329
£40 OFF £289
FREE
Multi Activity Short Break
4 nights (Mon-Fri)
30/07, 06/08
Family room
2018 Price £359
£40 OFF £319
2018 Price £299
£40 OFF £259
FREE
Multi Activity Holiday
7 nights (Sat-Sat)
28/07, 04/08
Adult and child room
2018 Price £529
2017 PRICE FREEZE £489
2018 Price £449
2017 PRICE FREEZE £409 + 1 child FREE*
FREE
Multi Activity Holiday
7 nights (Sat-Sat)
28/07, 04/08
Family room
2018 Price £489
2017 PRICE FREEZE £439
2018 Price £409
2017 PRICE FREEZE £359 + 1 child FREE*
FREE
Prices (£). All UK Multi Activity holidays are based on own travel.
*Preview event and FREE child places terms and conditions:
All offers are subject to availability. Max of one free child place per family booking. Bookings are non-transferable and discounts may not be added retrospectively or combined with any other offer. Bookings are subject to the general terms and conditions in the 2018 PGL Family Adventures brochure and online. All offers end 15th December 2017.