Ultimate Adventure,
France
11 night holiday
Day at Disneyland® Paris
Paris sightseeing with a river cruise
Fantastic canoe descent of the renowned Ardèche gorge
The ultimate family adventure!
Discover Paris and Disneyland® Paris, then head to the Ardèche River to tackle the white water rapids and experience a thrilling canoe descent, on this amazing 11 night holiday.
Our two centre Ultimate Adventure holiday offers outstanding value for money. You will enjoy five nights at Château de Grande Romaine, our centre just outside Paris, where you will experience Disneyland® Paris, Paris sightseeing with a Seine River cruise, plus a day of activities!
You will then head south for a six night stay at Domaine de Segries, our centre near the Ardèche gorge. During your stay you will paddle your way down the Ardèche on a three day canoe descent, returning to centre each night.
Plus you will also try out the fantastic centre-based activities including trapeze and mountain biking.
Recent improvements - brand new adult & child rooms and fully refurbished and updated family rooms at Château de Grande Romaine.


Every day is different
Between sightseeing and taking on the white water rapids we have amazing multi activity programmes planned for you that will suit the whole family no matter their experience! See the list below for the selection of activites that are available. Please note that not all activities are available at all centres; please see the specific centre pages for more information.
Evening activities
We also include evening entertainment programmes at all our centres, every day, all year round, whichever holiday you choose.
Due to the nature of this holiday we regret that we are unable to accept children under 7 years.
Select an activity for a full description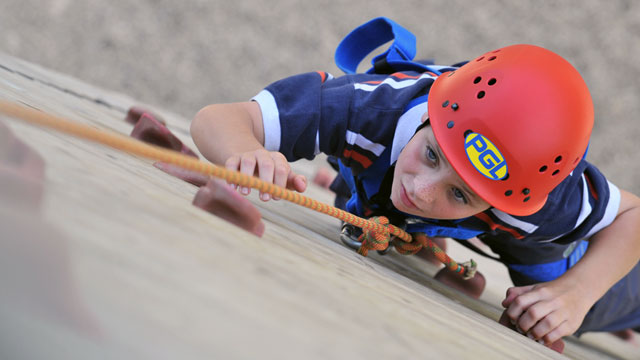 Ultimate Adventure

Schedule
Activity
Day 1
PM Arrive at Domaine de Segries
Day 2
All day Introduction to Canoeing and Ardèche descent 4km
Day 3
AM Mountain Biking
PM Jacob's Ladder/Archery
Day 4
All day Kayaking
Day 5
All day Canoeing: Ardèche descent 12km
Day 6
All day Canoeing: Ardèche descent 16km
Day 7
AM Depart Domaine de Segries
PM Arrive at Château de Grande Romaine
Day 8
All day Sightseeing in Paris and Seine River Cruise
Day 9
AM Orienteering/Trapeze/Zip Wire
PM Climbing
Day 10
All day Disneyland® Paris
Day 11
AM Abseiling/Ball Sports/Low Ropes
PM Family Challenge
Day 12
AM Depart Château de Grande Romaine

Please note this is a sample itinerary for illustrative purposes only. Itineraries will be planned by the centre shortly before your arrival.
To mark the beginning of our new 2018 season you can make HUGE SAVINGS by booking your 2018 holiday of six nights or more, frozen at 2017's prices!
Plus, one child (aged 7-18) goes completely FREE per booking!*. Got an offer code? Don't forget to quote it when making your booking to get this discount.
Click here to see all of our amazing 2018 'Preview Event' offers.
2018 Ultimate Adventure Prices
Holiday/ Dates
(Click to view holiday)
Accommodation
Adult
Child (7-18)
Ultimate Adventure
11 nights (Sun-Thurs Own Travel)
05/08
Château de Grande Romaine - adult and child room.
Domaine de Segries -
tented accommodation.
2018 Price £799
2017 PRICE FREEZE* £749
2018 Price £699
2017 PRICE FREEZE £659 + 1 child FREE*
Ultimate Adventure
11 nights (Sun-Thurs Own Travel)
05/08
Chateau de Grande Romaine - family room.
Domaine de Segries - tented accommodation.

2018 Price £699
2017 PRICE FREEZE* £665
2018 Price £629
2017 PRICE FREEZE £585 + 1 child FREE*
Prices £
Own travel only. Does not include travel to, from and between our centres and local transfers, including to and from Disneyland® Paris. We provide a coach to and from Paris with a PGL courier on the sightseeing day to Paris. Approx. drive time from Château de Grande Romaine to Domaine de Segries is 6.5 hours.
Want more?
This is just one of our 'More Adventurous' Family Adventure holidays.

Get in Touch
Call us on 0333 321 2114
2018 Family Adventures brochure coming soon!
Shortcuts