Meet our Sponsored Athletes
Skiing, netball and snowboarding are just some of the sports that PGL supports by sponsoring aspiring young athletes. They are activities that are close to the heart of PGL and many children are introduced to them at our centres each year.
We hope that the young athletes we support will not only go on to be successful in their own right but that they will also help inspire other young people, encourage them to try new activities, develop new skills and maybe become future Olympic hopefuls themselves. The road is not always smooth and many of our Sponsored Athletes face the challenge of juggling school or college work with long hours of training. Injuries can cause setbacks and it is testament to the determination of these young athletes that they rise to challenges and do not let them stand in their way.
Visit our News Hub for updates on the progress of our Sponsored Athletes as well as hearing from them about the highs and lows of training.
Find out more about our Sponsored Athletes:
Would you like to be a PGL Sponsored Athlete?
The closing date for applications for the 2017 sponsorship year has passed and we will be introducing the successful applicants here in the next few weeks. Thank you to all who applied. The standard has been incredibly high and it is inspiring to see the number of young people who are enjoying, participating and competing in sports throughout the UK.
If you are aged between 11 and 18, in full time education and you compete in one of the sports PGL provides, or if you know of a talented young athlete that would benefit from sponsorship, you might like to consider applying for sponsorship in future. Information about applying for sponsorship for the 2018 sponsorship year will be available in Autumn 2017.
Jai is 26 years old and comes from Devon. He learned to ski at Torquay Dry Ski Slope (in the grounds of PGL Barton Hall) age four and raced on artificial slopes until he was 12 when he first started racing on snow at the BARSC (British Alpine Racing Ski Clubs) championships in Austria.
Aged 14 he became British Children's Dry Slope Champion in two disciplines and outside school skiing became his key focus. During his A levels he spent two years part-time in the England Alpine 'A' Ski Team.
He has been a full time athlete since 2008 completing two seasons independently before being elected to the British Senior Alpine Ski Team in 2010.
A knee injury, sustained during the winter of 14/15, led to surgery and a period of recovery and rehabilitation following which Jai returned to full-time training and competition last winter.
He experienced some challenging setbacks early in the season (including hand surgery) but despite this managed two career-best results in Giant Slalom and achieved qualification for the 2017 World Championships in Switzerland.
As a result he was invited to join the new British Ski and Snowboard Senior Alpine Team full-time for 2016/17 and began training with them earlier this year.
In September, having suffered a second serious knee injury during training (the other knee this time), Jai flew back to the UK for surgery. The operation went well and Jai will be spending the next few months at the Olympic Medical Institute Intensive Rehab Unit, working hard to regain the strength and mobility in his knee.
Looking further ahead, Jai is keeping his sights firmly set on his goal of competing at the Winter Olympics in Korea in 2018.
Read Jai's blog and 'top tips' on our News Hub.
Maisie Potter - Boardercross
Maisie is 19 years old and comes from North Wales.
Maisie started skiing on the Plas y Brenin dry slope in Snowdonia when she was six but didn't get into snow sports seriously until she moved to Chamonix with her family at the age of eight. Maisie joined the Chamonix Snowboard Club and at secondary school was in a snowsports class that enabled her to train with the club during the school week as well as at weekends.
Currently Maisie completes in half pipe and boardercross at Europa Cup level and has had a great winter, finishing in the top 17 and gaining enough points to qualify for the World Cup next season.
This summer Maisie is busy combining her training with working at 'Surf Snowdonia' and will be back on the snow in October. Her season starts with training on the glaciers in Austria ready for the European Cup in Pitztal during December. Looking ahead Maisie hopes to appear regularly in the top 16 at Europa Cup level as well as competing in one or two World Cup Competitions in Europe whilst keeping her eye firmly on her long-term goal of competing in the Olympics.
Read her blog on our News Hub to find out how Maisie managed to combine training with school and what she has planned for the future.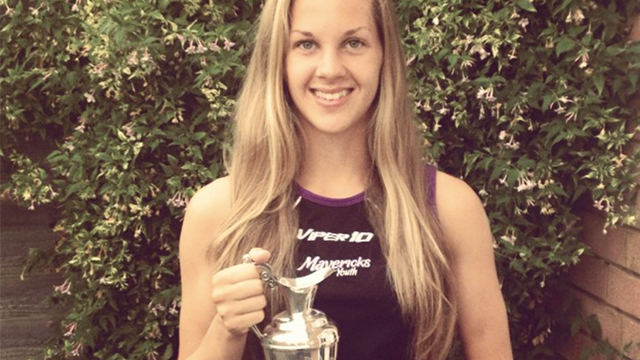 Becky first started playing netball at primary school aged 8, when she became part of a junior league team and fell in love with the sport.
Moving to a local club, Becky was encouraged to aim high and was soon accepted into the County Academy where she spent two years before progressing to the East Regional Performance Academy and the Hertfordshire Mavericks Youth Squad. By this time Becky was fitting 18 hours of training around her A-level studies.
Becky is currently studying Sport and Social Sciences at Bath University. She already plays for the regional squad and earlier this year she was also selected for the England U21 indoor netball squad. She represented her country at the Indoor Netball World Championships which took place in New Zealand during August 2016.

Get in touch
Call us on 0333 321 2100
Shortcuts