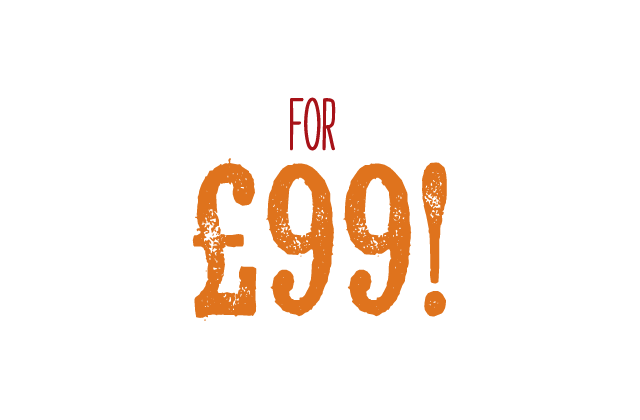 Bring a friend for £99 or SAVE £100
We couldn't be more excited to welcome you to PGL this year!
Adventure, freedom and friends is what we're all about. In the place that matters the most - the great outdoors.
Real adventures that are designed specifically for children, filled with new experiences and memories to last a lifetime.
And now, in 2019, you can give your children the chance to enjoy their first amazing adventure with PGL with our fantastic new special offers!
Bring a friend for £99 or save £100 per child on selected holidays!*
Take a look at the offers below and once you've found the perfect adventure you can book online or call us on 0333 321 2114 with your offer code.
Hurry, these offers end on 25th January 2019
Bring a friend for £99!* Offer code: BAF49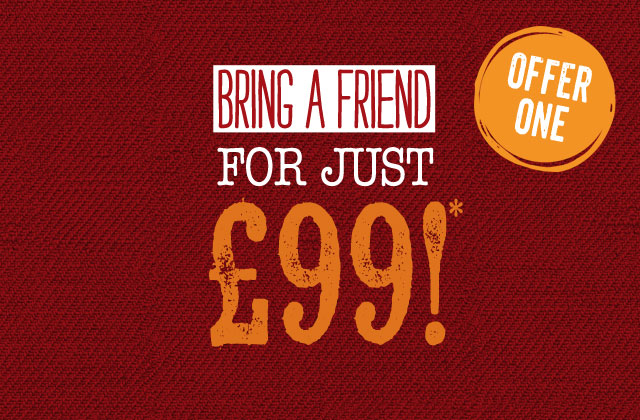 Applicable on all 7 and 4 night (mon-fri) and 'First Timer' UK Multi Activity dates in 2019, with the exception of holidays at Marchants Hill and Osmington Bay during w/c 13th July 2019 and all holidays at Windmill Hill for w/c 20th July at Windmill Hill.
View our brilliant 'First Timer' weeks here
Designed only for children who are new to PGL, they offer all the fun our classic 7 night Multi Activity holidays with the added reassurance that everyone on the holiday is first timer too!
View our 7 night Multi Activity holidays here.
Our most popular choice amongst parents and children. They offer a week-long packed programme meaning your children can try almost all of the activities on offer and it's long enough to really get to know new friends and the 'groupies'.
View our 4 night (Mon-Fri) Multi Activity holidays here.
Whilst our 7 night holidays are the most popular choice, not everyone can make the full week. Our shorter breaks are just as action packed as the 7 day option but they fit perfectly into a week with a weekend either side to recover from all the adventure!
SAVE £100 per child!* Offer code: SAVE49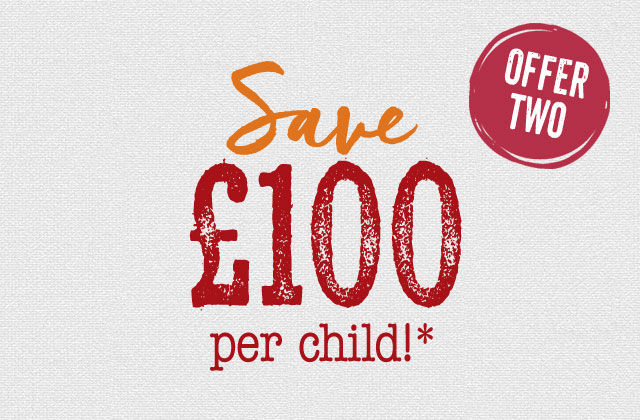 Just booking for one child? We've got you covered with a fantastic £100 discount on each adventurer!*
Take advantage of this offer and save £100* on 7 night UK Multi Activity holidays or our fantastic Specialist holidays (when PGL insurance is taken), or our French holidays, which offer something for every interest or passion.
View our 7 night UK Multi Activity holidays here.
7 days is the perfect amount of time to try almost all of the amazing activities our centres have to offer. From abseiling to canoeing and archery to flying down the zip wires, there's no such thing as a 'typical day' on this holiday.
Split into 4 handy categories to help you choose the perfect adventure for your child, our range of Specialist holidays offer that something extra special on top of our classic Multi Activity adventures, whether that be learning a new skill, exploring new places or even travelling further afield on our overseas holidays.
Action & Adventure - ideal for those who love a non-stop buzz!
Love to Learn - holidays with added value, learn new skills with a healthy mix of adventure.
Creative Kids- It's not all about action! Holidays for those with a more creative side.
Overseas - the ultimate PGL adventures! Try watersports on the Med, canoe the Ardèche or visit Paris and Disneyland®!
How to book
To search and book online click on the link below and enter the details of your chosen holiday, or use the link in the offer details above.
Or if you'd prefer to speak to someone on the phone, our Holiday Consultants are second to none and are on hand to book the perfect holiday for your child. Most are parents and know our centres well, so are best placed to answer any questions you may have. They can't wait to help you plan the perfect holiday for your child – so give them a call!
Call us on:
To view our latest opening times please click here.
Email: holidays@pgl.co.uk
*Terms and Conditions: All passengers must take PGL insurance to qualify for UK holidays offers (2019 Insurance prices: (7/4 nights) £37/£28 UK residents, £49/£33 EU residents, £63/£43 outside EU. French holidays - £44 UK residents, £58 EU residents, £62 outside the EU). Offer 1 requires a minimum of two children per booking and can also be applied for each additional multiple of two children on the same booking. For technical reasons the total discount will be split across both passengers. Offer 1 is applicable on all available seven and four night (mon-fri) dates in 2019, with the exception of all holidays at Marchants Hill and Osmington Bay w/c 13th July 2019 and all holidays at Windmill Hill for w/c 20th July 2019. When booking the 'Bring a Friend for £99' offer, the £99 holiday applies to the cheaper holiday. 'Book Now, Pay Later' requires a £50 initial deposit and the insurance to be paid. The full balance must be paid by the 1st March 2019. 'Book Now, Pay Later' cannot be used for online bookings and only applies to holidays taken in May, July, August or October 2019. Holidays booked without opting for 'Book Now, Pay Later' or booked outside May, July, August or October 2019 require payment in full at time of booking. Escorted travel, excursions and any other optional extras, including travel supplements for French Holidays from Manchester (£56) and Birmingham (£45) will be charged at the full rate for each passenger. All offers are subject to availability. All offers may not be used in conjunction with any other offer, discount or holiday not shown here and cannot be applied retrospectively to existing bookings. Early booking discounts are offered in conjunction with our general terms and conditions, which can viewed online or provided on request. Closing date for all these early booking discounts is 25th January 2019.
Plus book now, pay later!*
Book a 2019 Adventure Holiday using one of the special offers above and pay just a £50 deposit* plus PGL insurance per child at the time of booking and pay the balance on 1st March 2019.
Telephone bookings only.
Search for Holidays
It has never been easier for your child to experience a PGL Adventure Holiday. Select the options below to find the perfect fit for you and your child:
Please select at least one child's age in order to search. You can select multiple ages if you are searching for more than one child. Your search results will only display holidays for the ages selected.
We will search for departures 7 days either side of the day specified. If we can find no results we find the nearest available dates within 10 weeks either side of the day specified. PGL Adventure Holidays operate during the school holiday periods, please note that dates and holidays may vary at each centre. - February half term - Skiing and Snowboarding in February half term - Easter - May half term - July and August summer holidays - October half term

Get in touch
Call us on 0333 321 2114
Shortcuts