Climbing back to full fitness
It's been a tough 10 months for climber Anya Forino, one of our youngest Sponsored Athletes. But she's not one to let setbacks stand in her way. We caught up with her at the end of June to find out how things were going.
Injury - what I've learned this year ...
"In the final of the Youth Boulder Cup in September last year, I tore my left shoulder muscle on the penultimate move. I came second, and I have spent the last 10 months trying to recover. What have I learned?
1.) Don't get injured! But how ...?
First, a key way to stay uninjured is through a good warm up. Warm up thoroughly before any strenous exercise. I've always done that - but now I warm up for a full hour, not just 15 mins which is what I used to do.
2.) Stretch out thoroughly for much longer than you think you'll need to
My climbing sessions often finish late, and it's tempting to just go home after a short stretch but I now know that I must thoroughly stretch to undo some of the strains of climbing hard.
3.) Do antagonistic training
This is vital! Climbing tends to build strong muscles, but as you're always pulling, and rarely pushing, you build some muscles much more than others. Unless you balance your training by working the opposite muscles, you run the risk of becoming unbalanced. Conditioning and antagonistic work is harder than climbing as I am building new muscles. I am much more tired than I used to be when just climbing, but I know that it will make me stronger in the end.
4.) Get as much advice as you can
... and follow it!
Starting to mend
"I managed to get selected for the GB team in December despite my injury. I came 25th out of 60 in the Youth Colours International Climbing Festival in Austria in June 2017, and I won the South West Regional Youth Climbing Series championship for the 5th year in a row in April, but it hurt and I am glad that I have been able to just focus on rehab for most of this year. The other weekend I came first in the adult female category in the Rockstar Swindon Climbing competition. I think I'm finally on the mend! The competition season will begin again in August in Arco, Italy. My osteopath thinks I should be back to full power around Christmas - fingers crossed that he is right!
Keeping my hand in
"The Climbing Academy (TCA) Bristol hosts the South West Schools' Boulder Competition. There is an individual competition (under 15 and under 19) to take part in, and a team competition for those age groups as well. Only two small problems, firstly, my shoulder injury meant I couldn't take part in the first round as I was still in a bad way, although I hoped that I would be healed enough to take part in the December round.
Introducing others to climbing - setting up a climbing team
"Secondly, I didn't have a team. This could have been a big problem but I persuaded my friends Kate and Anya (yes, another one!) to join me and we formed the new SHS Climbing Team. Kate had been climbing for a year but Anya had only climbed a few times! Nonetheless, we won the U-15 comp, despite missing the first round. I was happy to win the Under 15 individual title, and very pleased that I got the highest Under-19 score in each of the three rounds I took part in. We won a lovely trophy and free coached climbing sessions for 9 people at TCA. We are going to use it to recruit more girls into the SHS team. The best thing about setting up the team has been seeing how my friends Kate and Anya have loved competitions. It just goes to show that anyone can do it. Don't be afraid of starting a new sport, or setting up a team of your own!"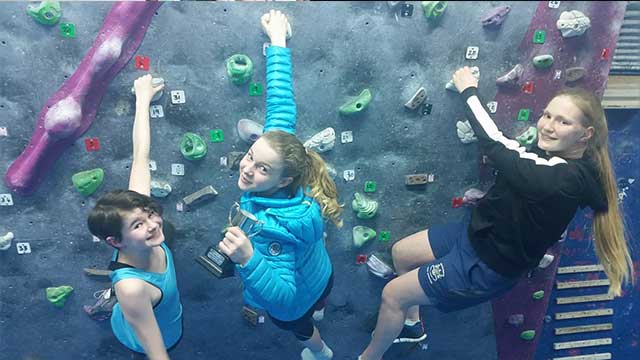 Climbing the walls at home!
"Training in Gloucester, Bristol and Cardiff each week is tough - I am usually out five nights a week in the run-up to important competitions and I have to do my homework in the car. In winter that means I have a head torch so that I can see! For the last few years, I've dreamed of having my own home climbing wall. A home wall can never replace an actual climbing centre, but it can allow a climber to train for strength or endurance without having to always get in the car.
How to build a climbing wall in your garden
"My coach, Simon Rawlinson, came with his friend, Nick Lord, to build my wall a few weeks ago. It was a scorching hot day, but they set to work to create a board with a 30 degree angle of incline, often called a 'woody' by climbers. It's made from marine ply and treated wood as it must withstand British winters. I will hopefully put a roof on it soon, but at the moment it is exposed around the side of our house. The Warehouse Climbing Centre in Gloucester is my home wall, and when I said that I was getting a wall built, my team coach, Josh Downham, found me a load of old holds that they let us have cheaply, so that I could get going with my wall. Holds can cost quite a lot of money for each one, so this was brilliant news. They are all shapes and sizes, and some even made of oak!
"Before I put the holds on, I needed to paint the plywood - partly to protect it from the weather and partly because I wanted to have fun with the colours! I chose blue and fuchsia, blending it to make a graduated colour with purple in the middle. Then I added a white silhouette of a mountain range. It was such fun painting it. Next: the holds!
"My plan with the holds was to set a few fun problems and then allow myself to do endurance training on the board as well. I tried setting some easy ones for my dad who doesn't climb. I used large, juggy holds - but he couldn't hold on for more than a second: he'll have to get training! My mum managed longer, but couldn't do more than one move. I had friends round to help me set and have fun training - and it is perfect. This is what my PGL sponsorship was planned for, and it is so much better than I'd dreamed it could be! I'm hoping that the SHS climbing team will be able to meet here regularly too!"